Meet & Greet and Concert at The Bushnell (William H. Mortensen Hall) in Hartford, CT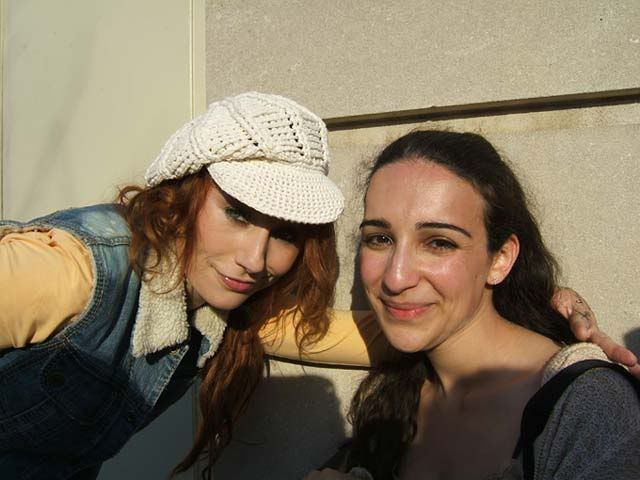 Sunday morning I couldn't deny that it was going to be a beautiful day, and that I should attempt the m&g because it really could work out this time.
I got to Hartford somewhere between 8:00 and 8:30 am. I figured that I may as well take advantage of the weather, and I really wanted the chance to have a picture taken with Tori and to say thanks
(I was a bit frustrated that I had been so flaky when I met her at the book signing)
. I had also arrived at the m&g in NH
(one that never happened because of the cold)
during the SW tour at that hour and there were others there at the same time.
This time I guess it was a bit too early. Lol. When I got there, all the lots and meters around the Bushnell were
completely
empty!
I took this pic of my car all alone in its lot, hehe: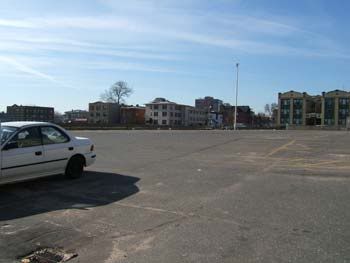 I walked around the venue a few times to try and figure out where the m&g would be held. During my last pass around the side of the building, a man there asked if he could help me. I asked him if the m&g would be held at that spot and he said yes but that I was there at the wrong time because it would be held in the afternoon
(lol, apparently he was not familiar with Toriphiles)
. He was very nice and talked with me for a short while as I settled into my spot on the little stone wall. He thought that it was hilarious that I had arrived before most of his employees.
I was pretty bored so I took some other random pics of the area around me (I deleted a bunch later because I didn't want to run out of room when Tori arrived):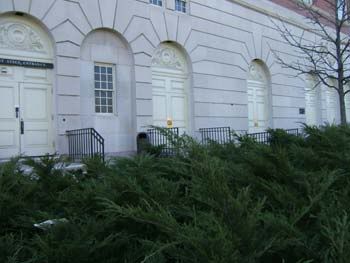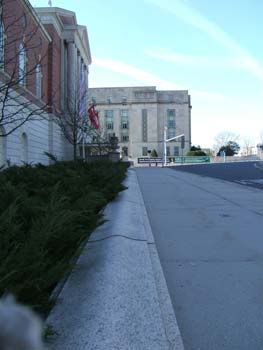 In fact, one of the employees that arrived a short while later stopped to ask
me
where the employee entrance was. The funny thing was, I had actually figured that out by then!
She was a self-described "backstage bitch" for the concert, and she was really nice. She came out later and said that she was making a coffee run and asked what I would like. She came back later with a warm and yummy Dunkin Donuts coffee and wouldn't let me pay for it. She said that I looked pretty cold
(in the shadow of the building it was freezing)
and lonely and that the least she could do was bring me coffee.
A bus with Tori's crew arrived around 9:30. A bunch of them said hello to me since I was all by myself. Lol
There was a decent-sized group of "regulars"
(ones that go to all the shows and most m&g's)
that arrived some time after 10am, and more of their group joined over the course of the day
(I think there were about 20 of them total for their group)
. I wish I could remember all of their names, but at least I could remember that there was another Lauren, Laura, Michael, Debbie, Noah, Karolyn, and Dor.
They decided to do the numbering system and asked if I minded. I hadn't been to a successful m&g before
(weather or transportation issues every other time)
, so I let them take care of that sort of thing. So the sharpie came out and the numbering began.
I have to say, it was pretty nice to have this # on my hand all day: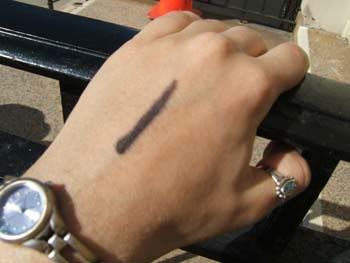 Shortly after their arrival, Susan
(whom I had seen at other concerts and hung out with for the day at the book signing in Boston)
and her friend Randi got there. They are both great to chat with and I was happy to see them.
As people started to show up, we decided to line up along the wall
(where we were sitting)
in numerical order. I just couldn't believe that I was at the front of the line.
This was how the front of the line looked (people got up and moved around a bit, of course), that's me in front, still letting it sink in that I was there: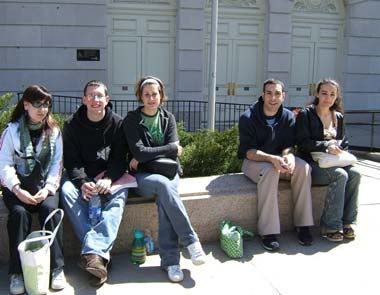 Here was the line as it developed:
(that's my "A Sorta Fundraiser" bag in my spot)
: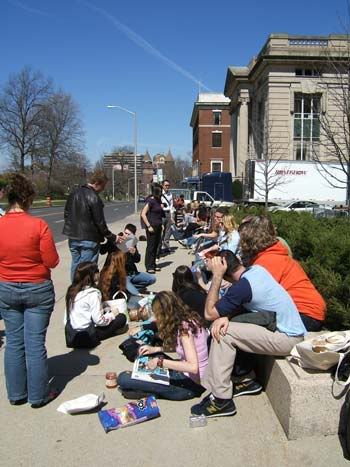 Around 3:15pm, we decided to move from our line on the wall into the barricaded area behind us where the m&g was to be held. The large group that was after me in line basically told me how to do it and I'm really grateful that they were so nice to me and were looking out to make sure that I kept my spot at the head of the line. I would have been completely passive about it on my own and would have probably ended up pushed out of the way somewhere.
We sat for a while to avoid having to stand up for the remaining hours and to also to avoid the big push toward the barricades: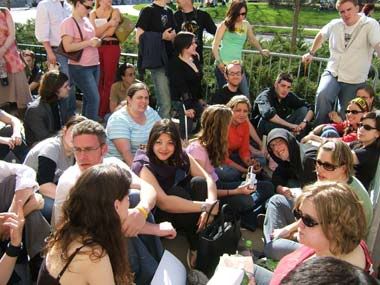 I was surprised at how organized everyone was. The employees were pretty shocked, too.
The door that was near the barricades
(the one that Tori would be coming out of)
was one that had been used frequently by the staff for cigarette breaks and such. The next employee that came out was shocked to see the crowd sitting in order
(and fairly quietly)
right in front of him when he came out for a smoke. Hehe.
A little while later, Katie (
k8et
at ToriForum) got my attention. I was so happy to see her and I really wish that I could have hung out with her longer. We chatted a bit over the crowd. I got a couple of cute pics of her with her friend.
I also noticed Stacy, who I also spent the day with in Boston. She was on the other side of the wall taking pics
(a large group had developed outside the barricaded area, too)
. I think that I actually caught her in some of my Tori pics.
I had become SO hot in the blaring sun, and our skin was frying. I didn't notice how red my face had gotten until I got home that evening. I did, however, notice that I was pretty dehydrated and I was starting to get pretty dizzy. It wasn't too bad, though, and Dor was really nice and found someone with a bit of water left in their bottle. I'm normally a bit of a germ-a-phobe, but I wasn't going to be picky at that point. The water helped a ton, as warm and icky as it was.
. . .
…
I don't know exactly when Tori came out, but it was sometime shortly before 5:30. She was a bit rushed because it was late, but it was wonderful and she took as much time as she could.
Here are some pics that I caught of her as she greeted everyone, signed stuff, and such as worked her way back toward the door: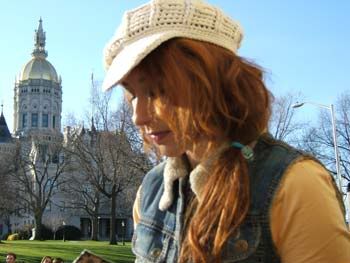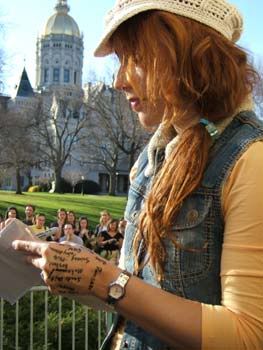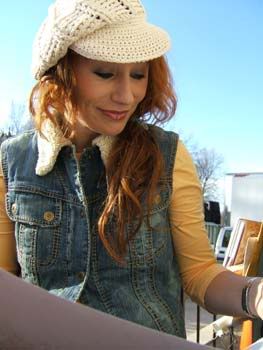 When she got the person next to me and the people that she could reach behind to, she turned to me and said "You'll be the last one before I go in."
After passing up some stuff from other fans, I gave her a card and I started shaking.
I can barely remember my actual words to her
(I was so nervous, and such a weird combination of euphoria and panic had swept over me)
, but they were somewhere along the lines of
"You've been my rescue. There have been just so many things over the years… so fast… and you get buried sometimes, but you've been my rescue so many times in so many ways. Through your music and those I have met because of your music. Thanks." I was so nervous and I wanted to say so much, but I could see that she understood.
I can't remember what she said back
(and it drives me nuts!)
but I know she was being pressed to go back inside, so I knew that she couldn't speak for long.
She saw how I was clutching my camera and asked if I wanted a photo with her. I nodded and Dor took my camera to take a picture.
I completely forgot until the last second that I wanted her to sign my bag, but that's ok, that wasn't the important part anyway. I had my book signed in Boston, what I wanted was to thank her and to hopefully get a picture with her.
And that's exactly what happened: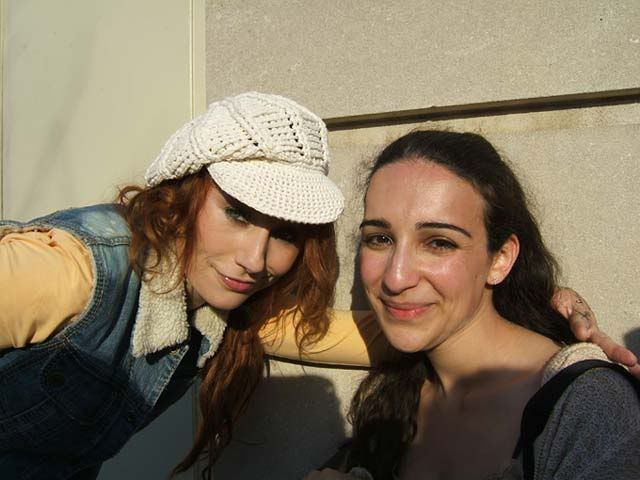 I was able to hold back the tears while I spoke to her. I shook and probably sounded incoherent, lol, but I didn't cry.
However, Dor, Karolyn, and Susan all came up to me afterward and began showing me the pics that they had taken of me chatting with Tori, and a pic of Randi and I with her… and the tears began streaming down my face. I didn't even know that those pics were being taken. We exchanged e-mail addresses, and I couldn't thank them enough.
It was so incredible. I couldn't have imagined such a great experience. And I hadn't even gotten to the concert yet!
…
I caught up with Stacy and Rebecca
(also from the Boston day)
after a bit of a cell-phone game of Marco-Polo
(trying to located each other around the streets of Hartford)
.
No restaurants seemed to be open, no matter how far we walked, and the McD's (which we were reluctantly going to resort to) that we had heard that others went to was nowhere in site.
We walked back to the venue, hoping that the café there had opened by that point. I got some nasty blisters on my feet due to my impractical strappy high heels – some extra scars to add to my mementos for the day
(though my sunburned face is a lot more noticeable)
– but that didn't bother me too much considering my fantastic day.
The café had, in fact, opened and I we picked up some dinner there. Susan and Randi joined us a bit later.
After that, we went back to the main building to check out the merchandise. I bought a program and the yellow "Sweet the Sting" shirt.
http://store.tbentgroup.com/product_info.php?cPath=33&products_id=95
t cost $55 total. I pulled out my cash
(since they gave Rebecca a nasty time about using her credit card, even though they accepted them)
and found that I had $5
4
.
The guy next to me overheard me about to reluctantly pass on the tour book and immediately handed me dollar. I protested, but he was really sweet.
Unfortunately, the merch line/crowd was so long that we missed a good chunk of Matt Nathanson's set.
ONTO THE CONCERT…
What I did hear of Matt's set was great. I only heard 2 songs, but I liked them both and really enjoyed his stage presence. He did a sing-a-long with his last song, which was fun and also was a great song.
I chatted with the guy next to me, and his wife, Marla
(I know I have seen her before, but I can't place exactly where… probably at a Tori show)
. They are moving to Atlanta soon, but I hope that I run into them again sometime because they were fun to chat with. Marla was trying to convince me to go to the Boston show, even though I didn't have a ticket.
The concert was wonderful. I absolutely loved the setlist. This concert had a more mellow tone. Some people say that Tori seemed maybe a bit tired or distracted, which I might agree with, but it was still excellent!!
The audience was wonderful throughout most of the show. Everyone was great with keeping quiet while she played. However, it was embarrassing how early and rude the people were who rushed the stage during the middle of
The Beekeeper
.
Original SinsualityBeauty QueenHorses
After
Horses
, Tori said hello to Hartford and told a little story about Tash.
She said that she was fairly certain that Tash had no particular history with Hartford
(no "play group love affairs" as Tori put it)
, but that for some reason she wanted Tori to bring Lillian out at the concert.
Tori brought out a Barbie-like doll from behind her back. This is Lilly (Lillian).
She explained that Tash said "mummy, I like Lillian because she can move her head like this" (Tori and Lilly tilt head in a ditzy way with a blank smile).
Tori went on about how she explained to Tash that some real women do that too.
"Just wait until you see LA." She had said to Tash. "Are they real, mummy?" is what she expects her to say. Lol
She chatted a bit more with the audience as she was twirling the doll's hair a bit.
She realized this and said "I can't believe that I'm playing with Lilly." And threw the doll over her head before she began the next song.
Carbon
– so happy to hear this
Parasol
– made me want to cry
LeatherJackie's StrengthStrange59th Street Bridge Song (Feelin' Groovy) - (Simon & Garfunkel cover) Me And Bobby McGee (Janis Joplin cover)
– Such a surprise!!!
Mrs. JesusMarys Of The SeaSilent All These Years
- smiled when I heard this not only because I love it but because we had referenced it earlier in the day. I had kept repeating to myself "I'm not nervous, I do have a voice" because I was so nervous that I would freeze again when I met her. The person that I was chatting with said with a smile "yes, even though you've been Silent All These Years." This led to a discussion about how I would love to hear that song.
Ribbons Undone
– very emotional, so well done
Spring HazeThe Beekeeper
- great. Would have been better without all of those people running down the aisle in the middle of it.
1st Encore
Merman
- made me so happy!
Cloud On My Tongue
2nd Encore
Sweet The Sting
– great (and very different) live
Twinkle
- I was so glad that girl at the m&g got her request!
After the concert, Marla told me again that I really should go to the Boston show. When I met up with Stacy and Rebecca in the lobby and walked out to our cars, they gave me the final push. :)
Sunday, April 10, 2005 (finally posted 4/27/2005)
---