Tuesday, April 12, 2005 (finally posted 4/27/2005)
Meet & Greet and Concert at the Orpheum Theatre in Boston, MA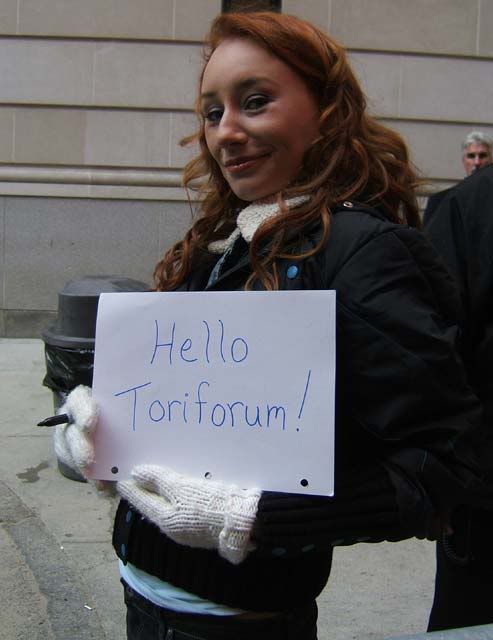 I left the apartment around 8 am and made a couple of stops for gas, cash, water (I had learned my lesson about dehydration from Sunday), etc. Fortunately, I hit very little traffic and had no issues in finding my way to the venue. I parked in a garage that was a few blocks away.

I walked past the commons to the Orpheum, and as I turned the corner to the alley where the entrance was, I saw Susan (whom I had met at the book signing and the Hartford show). The crew bus and equipment truck were blocking much of my view of the area in front of the theater. It was about 11am at that point, and I had assumed that there would be several other people on the other side. To my surprise, I found that I was only the 3rd one to arrive! Angel was the other girl who had arrived before me. I didn't know her, but I had heard a bunch about her from Susan and some other fans.
Since Susan was there, and I had to wait to find a ticket anyway (the box office wasn't going to open for several hours and there was no one else there to ask for tickets), I was happy to stay for the meet & greet. I figured that it would be a great opportunity to ask Tori to sign the canvas "A Sorta Fundraiser" bag that I bring to all of the concerts.

We saw Mark walking in front of the venue several times. Every time he was chatting on his cell phone.

Very slowly, others began to arrive. A woman named Cindy arrived next. She had dropped by on a whim, because she and her niece had arrived too late for the Hartford meet and greet and she really wanted to surprise her with a picture.
Next was a guy who had an awesome old-fashioned camera. His name is Hans, and he helped quell my worries about not getting a ticket. He didn't have one either, and said that he always gets the best ones when he waits until the last minute!
Then a guy named Chris showed up. I recognized him from the Hartford concert. He is in some of the forums as MrZebra1980.

Fortunately, there was an entrance to The Corner Mall (a food court, basically) in the same alley as the theater. Chris and I went there to get some food. I grabbed a yummy chicken gyro and he got some Chinese food.
When we headed back to the theater, we weren't sure what sort of crowd had formed while we were gone. I half-expected to see the barricades up with a mob behind them. I was right about the barricades, but there were only a few more people there. There was maybe 12 total.
They had started the numbering system while we were gone, and sharpied (is that an actual word?) our hands when we returned. I had no arguments about that.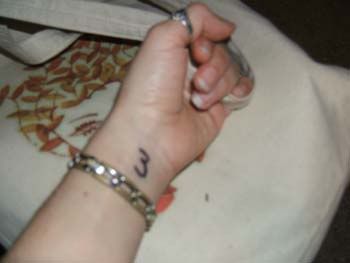 A five-year old girl named Ariel was among those who had arrived with her mom. She was so sweet and so well behaved for the long time that she waited. Her mom told me that she (Ariel) loved Tori's music and that she really wanted to hear one of her favorites that evening: Cars and Guitars or Mr.Zebra. She was also bringing Tori a picture that she drew.

...

While we were waiting, Matt (Nathanson) arrived in his truck and he took some time to chat with a few of us that recognized him. We told him how cool we thought it was that he drives his own truck to the venues and hauls his own stuff (he was loading his things into the theater himself!) He was so casual and nice. When he stopped by, he just smiled and said "hi, I'm Matt" in such a matter-of-fact way. I had a chance to meet him after the show, too, but I will get to that later.

We actually got to see Tori walk into the theater with Smitty because there was only one entrance. She was on her cell phone, but she smiled and waved as she went inside.

As it got later, people arrived more rapidly, but it was still a small group. A really nice guy named Patrick arrived on his break from work (lol!). He had to leave but he later returned just in time to see Tori. He had an extra ticket, and so did a woman who was a friend of Ariel's mother. I was relieved that I wouldn't be shut out of the show.

I don't remember the numbers (the sharpie ones) getting any higher than 27, though some of the last few that showed up didn't take numbers. Among them was Marla, the girl who sat near me at the Hartford performance and convinced me to go to Boston. I thanked her and told her that I already had options for tickets.

I think that one of the reasons that the group was so small was the weather. It had been fairly sunny in the morning, but it gradually got colder and cloudier. It got to the point that we could see our breath in the air (big thanks to Susan for lending me her scarf) and some raindrops began to fall. Many of us were unsure if she would actually be able to come out.

...

But around 5pm (maybe a bit earlier?) our worries vanished as Tori made her appearance (dressed more appropriately for the weather than most of us were) and seemed to be in a great mood. I think that she may have also been happy to see such a small group, considering the weather.
The group was the best, and many people agreed that it was one of the best m&g's ever. Everyone was laid-back and courteous. No pushing, no drama, etc.

The only drawback was the weather. About halfway through, she had to start hurrying along a bit because the drizzle had started to turn to a light rain and it was rapidly getting colder. Smitty announced that she would need to get inside more quickly and that we should all do the same as soon as we could. This was shortly before she got to me.

I did not want to hold her up in case it started to rain harder because I didn't want to cheat anyone else of his or her time with her.

I had already said what I needed to say about myself to her in Hartford and in the letters that I had give to her there and at the book signing. I was not nervous this time, either.

In the notes that I gave to her at the booksigning and in Hartford, I included that it was also thanks to her that I had met some wonderful and supportive people that I would have never known otherwise. In my Hartford note, I mentioned ToriForum specifically. I had mentioned that this was the group that Haullie had talked about to her, the one that she called the "Love Bunch." I told her that the community I've found (on- and offline), as well as her music, has been a saving grace to me.

When she reached me, I had decided what I wanted to do and I had already written the sign.

I simply said to her, "I don't want to hold you up. Could I just get a quick picture for some friends that can't be here with me, but who mean a lot to me, thanks to you?"

I showed her the sign.

She grinned and said, "Of course!"
She took the sign, turned around (crouching down a bit like she was ready to jump), asked "ready?"
then she spun around to strike a pose for the camera. Lol.

She returned the sign to me and said, "Take care, sweetie… them, too (pointing to the sign)."

I didn't bother asking her to sign my bag because I knew that she needed to move along, and because she had just given me something so much better – a way to thank a wonderful bunch of people that have been a great part of my life over the past few years.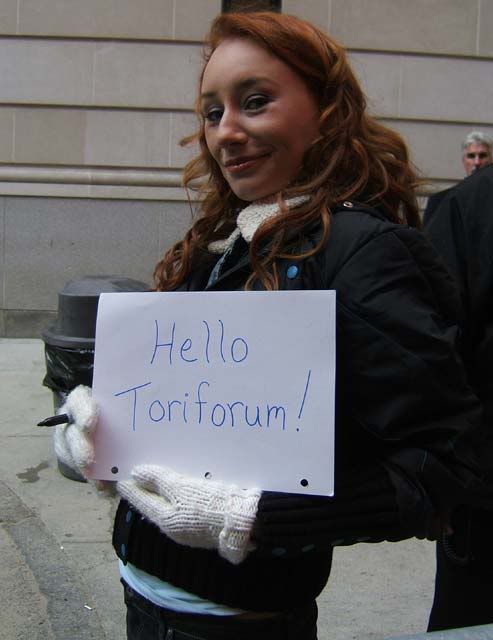 . . .

Just a few seconds after the meet and greet, it began to rain harder. We were lucky it happened when it did!
I bought the balcony ticket from Patrick. It was way in the back, but he only wanted $30 for it and at least it would get me into the show.

Susan and I went to drop off our bags and cameras at our cars. On our way, the rain briefly changed over to snow. I couldn't believe it. I had a sunburn on my face from Hartford (just 2 days earlier), and now it was snowing! When we got back, we jumped into line at the box office to see if there were any last minute releases.

I completely lucked out! I ended up with a 12th row orchestra ticket, just right of center! I was so shocked and incredibly happy. I ended up giving away my balcony ticket (actually Susan found someone to take it, cause I wasn't doing a great job of finding someone) for free because I just wanted someone else to be able to get in.

When we got into the venue, something totally random happened. As I was hanging out in the lobby, I ran into this girl that looked extremely familiar. Then she actually said to me, "where do I know you from?" On a whim, I asked her, "Are you from New York?" She nodded. "Poughkeepsie?!" We figured out that we were both from the same school, and started school there the same year. I remember talking with her about Tori at some point, maybe during my sophomore year. Weird.

ok, CONCERT TIME…

I got to see all of Matt's set this time!

He really has a great, funny personality on stage. I really wish that he could have played longer. ...But not if it shortened Tori's set, of course!!

Tori had a ton of energy, and seemed to be in a great mood. The concert was definitely more polished and exciting than the Hartford show (though I absolutely loved that one, too). The Hartford one had more of a melancholy feeling (in a good way), whereas this one had a more intense, energized feeling. That is the only way I can think of putting it into words.
I am so glad that I didn't chicken out of going to this show!!!!

Original Sinsuality
Happy Phantom – yay! You could tell that she was having fun with it.

Tori said hello and mentioned that the last time she was there she had just turned forty. She joked about getting old. There was a man that was yelling and she asked him how old he was. He said that he was 45. She laughed and said "Fuck off! Are you really?! Fuck off! I didn't think that people over forty yelled out at concerts.".
She talked about how things change when you get older. She said with a grin that she may get hot flashes, but other stuff gets hot, too. This led her right into the next song…

Sweet the Sting - with the "sexy sexy" improv this time (not at Hartford show)
Little Amsterdam – probably my highlight. Excellent.
Carbon
Cars and Guitars - I actually was not a fan of this song on the album. But after hearing it live, I really enjoy it a lot more. This had happened with Another Girls Paradise for me during the previous tour.
Crazy - so happy to hear it

Sweet Dreams (Eurythmics cover) – wonderful. I loved it. She added some lyrics, and I'm trying to find them!
River (Joni Mitchell cover) - fantastic

Jamaica Inn
Cooling
Space Dog – fun. She started on the organ with the extra lyrics "so sure, those girls… etc", then went to piano, then ended up with both together. Really good.
Goodbye Pisces – it sounds so good live!
China
The Beekeeper – very emotional

1st Encore

Sweet Dreams - my other big highlight! I love this song and every opportunity to hear it!
Leather

2nd Encore

Doughnut Song – before the line "copper to steel", Tori drew a blank and a large group shouted "copper!". She said "one at a time please", then went on with the song. It was cute.

Before the last song, Tori spoke again. She described a conversation with Tash. It went something like this:
Tash - "Mummy, have I been to Boston?"
Tori - "Yes"
Tash - "Can I go to the show tonight?"
Tori – (firmly)"No."
Tash – "Then can you play my song?"
She told us that was why she had to play the next song.

Ribbons Undone - a beautiful finish

Susan and I got to chat with Matt (Nathanson) a bit after the concert. I had found her in the lobby where she had found him (well, at the end of his set he said that he would be there).
We talked with him about Boston a bit. We didn't realize that he was from there originally. We noticed the ring on his hand and he said "yeah, I'm taken. But I still *heart* you!". Lol.
We both wanted to have him sign something, so I suggested that we use our tickets.





He is extremely nice and funny, and I would definitely go see him again whenever he comes back around here!

I cannot even begin to express how glad I am that I decided to take a chance and go to Boston.

I ended up with a great show, got to meet Tori again and remind her of ToriForum, and bring something back so that I could share the moment with an amazing group of people that mean so much to me. :)