Right before leaving: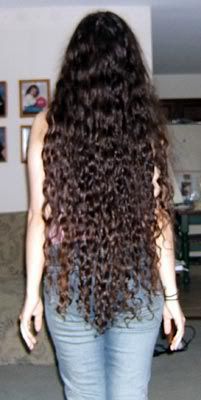 Right after returing (hair wet from trim after cut), with braid: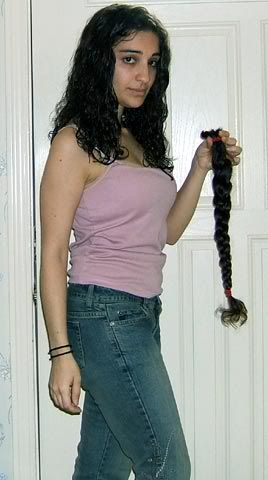 Later, dry:



After showing Josh:



So it is done!

When I got to the salon, Polly couldn't believe that I was finally going to cut it. She hadn't seen it in about 5 or 6 years. She pulled it back into a ponytail to measure it out.
Since I had a lot to work with, we decided to donate at least 17 inches. The last 5 inches, as I expected, we mostly split ends and such and they wouldn't be able to use it. So, with the 17 inches, they would have at least 12 inches to use. This was actually with the curl, so I was actually donating much more. :)

Then she braided it up and snipped off the braid.
I measured the braid later because Lock of Love wants it labeled. The braid was 18.5 inches long.

After that she washed my (remaining) hair and trimmed it more to even it out.

So, I removed probably at least 20 inches total.

I am have not adjusted yet to how light it is. I've been a bit dizzy, but I'm sure that will go away.
I keep forgetting that I cut it, and reach for it to move it out of the way like I used to. Lol.

Gina was the first person to see it. I hadn't seen her in a few months, anyway. She had a very long day. Matthew was sick and had kept her up since 3am. So she didn't notice right away. Then, in the middle of us talking, she went white and said, "Where is your hair?!". Lol. She liked the cut a lot. It made me feel a million times better about it.

My mom, of course, knew in a second.
I let myself in the house and walked by the kitchen, where she was cooking dinner. She dropped the spatula into tha pan and screamed "You cut your hair!!" She was very glad that I had it done, but was extremely surprised with how much I cut.
My dad wasn't there, so I sent him an e-mail with the pictures.

Telling Josh was the funniest.
As usual, when I got home he was in the back room sitting at the computer, playing games, with his back toward the rest of the room.
I came up behind him to say hello and such. He didn't notice (eyes still on computer).
I came back into the room and brought the braid with me. (eyes still on computer)
I chatted with him for a while and even brushed the ends of my hair against him. (eyes still on the computer)
Then I brought over the braid and hung it over his shoulder.

He leaned against it with his head, pinning it to his shoulder (thinking that had pinned me down by my hair). He laughed, and remarked about how he had me trapped.
I walked back a couple of feet and waited for him to let go. When he did, the braid dropped onto his lap. LOL
He looked down, stared at it for a little while, then finally turning his chair around to look at me.
He is probably more in shock about it than I am.

So, I didn't cry or freak out much about it. Probably because it is still not above my shoulders and I know that I will grow it back.
It definitely looks and feels healthier. I has most of its volume back.

And I am glad that I could make a good donation to a good cause.